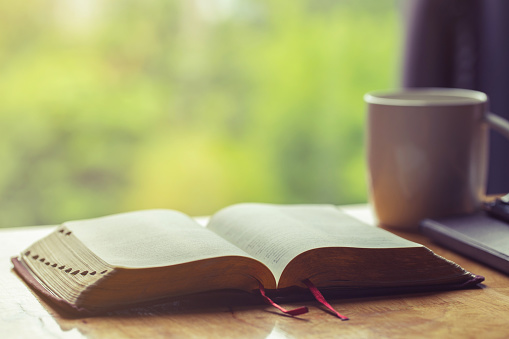 Portland,Oregon
I'm sitting at our table in the cozy kitchen nook. Spring sunshine is streaming in the windows as I gaze at our small backyard. I love this little corner of our home. Crazy as it sounds, this is my "retreat", especially so at this time of the morning.

My three older children left about 15 minutes ago, heading to school. The two youngest are still asleep upstairs and my husband has gone to class, I am actually by myself in a quiet house – at least for a few minutes, and I am happy!

After clearing the table of family breakfast debris, my cup of coffee is ready, as I pop a slice of raisin cinnamon bread into the toaster. My notebook, Bible and commentary are open , taking up most of the table space. I manage to squeeze in a saucer to hold my toast to butter, then some honey and a slice of cheese. Ah! my
breakfast is ready.

I take a bite of that delicious toast, a sip of coffee, then open the commentary for the comments on the next scripture in my study on PRAYER. I read the verse, look it up in the commentary, then write the summation of my own thoughts in the notebook. I'm in the process of going through the New Testament and it is rich! I'm learning so much and , simply by writing down my thoughts, they remain more permanent in my mind.
My coffee and toast are about gone (the coffee got a little cool as I am writing, and I like hot coffee 🙂 I debate about another piece of toast, but hear some noises from upstairs. The smaller children are awakening… I quickly pick up my study material and put it up high enough that little hands can't reach it. (This time I use the top of the refrigerator).
Wiping my hands on my apron, I run up the steep stairway and start my day, praying as I go. I'm going to need His help: I'm so thankful I can talk to Him. . .I wouldn't make it without these conversations..
Pray without ceasing … talking to the Lord all day. It is much better than talking to myself!